caro03
Providing Innovative & Practical Solutions
caro04
We offer technical, commercial and contractual services
caro05
We identify client requirements, consider issues holistically, and develop sustainable and economic solutions
---
Resonant Solutions offers a variety of consulting services.
Our particular strength is in finding viable solutions through taking a systems approach, including the integration of diverse disciplines and technologies.
Consulting Services:
● Multi-disciplinary integration
● Total energy assessments and energy effectiveness
● Renewable energies and storage
● Energy Mass Balances and Life Cycle Assessments
● Concepts development
● Energy, mechanical, structural and civil engineering
Advisory Services:
● Governance and Processes
● Strategy and Risk
● Performance Improvement
● Project direction and systems setup
● Policy development and formulation
● Development of business strategies and feasibility studies

Economics
● $25M saving on a $200M port/rail expansion project through taking a systems approach and revamping the layout.
● Reduction of a project cost from $18M to $9M for a waste water storage facility.
● 10 times under budget for a conveyer off-take system using a simple mechanical device in lieu of sensors, hydraulics, and electronic control.
● 5x reduction in energy and mixing costs in fibre cement industry, by changing the mixing method.
● Repositioning a boiler with negligible capital increase, but had substantial environmental and social benefits, which ultimately lead to economic benefits

Innovation
● Introduction of a world first 600kW mobile fan with potential payback in less than a year, from early energy analysis.
● Development of 2-axis solar drive/tracking system and later deployed commercially.
● World first (and patented) internal cathodic protection aerodynamic support structure for cooling ducts on a power station.
● Patents for clutch and actuator systems in the automotive industry of a massed produced motor mechanism.
● Distillation of tailings liquor to enable water recycling (still to be proven commercially)

Engineering
● Capture of waste heat for water purification and energy generation in an integrated solar thermal hybrid project.
● Use of solar energy direct heat for curing cement pipes.
● Engineering, project and commercial advisor on wind energy projects which identified and resolved potential problems.
● Reuse of waste particle board (which were to become landfill) as insulating walls for a low temperature curing oven.
● Using slimline water tanks as lost formwork or internal walls, while providing water storage.
---
Resonant Solutions has formulated a unique strategy to the question of sustainability through a holistic systems approach which incorporates energy, economics, environment and society, to be rolled out to business, government and the public.
Ecoper principles:
The system known as Ecoper ('eco' meaning home and pertaining to economics and ecology, and 'per' for perpetual) is based on the principles of:
● A fair and level playing field, while allowing for 'live and let live'


● The 'Dependence Pyramid', where each item in the pyramid is 100% dependent on the item below


● An energy based accounting system to provide a cost basis for externalities ('hidden' costs such as emissions, adverse health effects, loss of bio-diversity, consequential damage)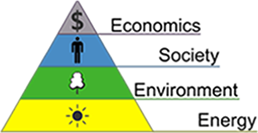 Just as strong companies attain financial success through investing in their people and systems, so too a strong economy results from a nurturing a strong society and environment. Through a thorough risk assessment and strategy process, Resonant can identify how your organisation can deal with the high probability of eco-systems/economic crises.